Dave's House on Winter Break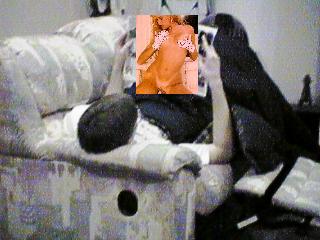 Dave got yet another high quality computer catalog
in the mail.. He told me to leave rapidly,
because that was his "special time".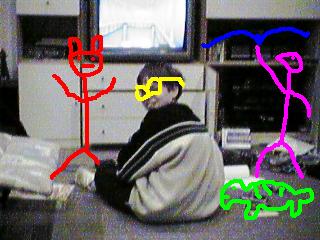 This is what Dave's brother sees all the time.
That's why he's such a spaz all the time. That
turtle keeps trying to touch his ass.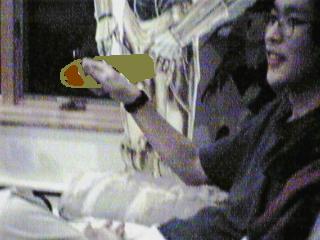 Gaku Sato and C3po hit it off well, I thought,
but even the Indian guy from that movie doesn't
know what kind of fluid that was.. It
definately wasn't no battery fluid.


---

	OK, so enough of that.  I will now recount to the best of my memory a vauge appoximation
of what actually occured this winter break, mostly cause I can't remember most of the things that
happened already, and I estimate that by the summer, this will never have happened.

	We went to Ray's house to watch movies.

	Again.

	And again.

	When Ray left, we watched more movies.  This time at Fish's house.

	At sometimes we went to restaurants.  Other times we did not.

	Let's see.. there was a party at Ray's house on New Years (I mean no), and another near
the end of the thing somewhere else.  (Yes, I remember it was at Fish's house, I just shouldn't
write that here, where as anyone can see it).

	Numerous times, I (and Viv) poured sugar on Fish, as ordained by tradition.  (Thanks
also go out to Tom and Syd for various assists).

	Gaku Sato and I stole all the mints.  Vishal ate all the sauce.  We went bowling, and
Ray incessantly had pepper on his ass, making it not-so-fresh-a-pepper.  I bowled, and we got
in trouble.

	There was a birthday party for Viv, and Vishal once again ate all the sauce.  I stole
more mints and threw more sugar.  There was also a birthday celebration for Fish, where he threw
sugar on me.  He obtained a snake, hence named something like "Snatchy the Raunchy Snake Guy",
from Viv.  The snake was stiff.

	Sagar drove on the roof, and the mall was closed.  Fish thinks he almost died again.
(Again?  Yes, he really was a fish last time, but Matt's mom ate him).

	The web page remained unfinished, despite our valiant attempts.

	We watched more movies.  Matt and I ruined the Blockbuster again.

	Once, I went to Fish's house, and Ed was there.  It took me a while to figure out who
the fuck he was.

	Oh yeah, I walked on shopping carts and so did Tom.  But the pictures came out like crap.

	We attached a sled to the Giant Mercedes and drove around.  Sagar never drove at all
ever.

	Ummm, I don't really remember the beginning of the vacation.  I think something's wrong.
Or it's because we never actually did anything.  Oh, Sag got pulled over, but nothing happened.
It was all Hooter's fault.


Back!